Police who shot Andrew Brown Jr. to death as he drove were justified in their actions, district attorney says
The officers involved in the fatal shooting of a black motorist during an attempted arrest in North Carolina will not face criminal charges.
The sheriff's deputies who shot a 42-year-old Black man to death as he drove his vehicle last month in Elizabeth City, N.C., were justified in their actions because they had reason to believe they were in danger, Pasquotank County District Attorney R. Andrew Womble said during a news conference Tuesday morning.
North Carolina sheriff's deputies were justified in their fatal shooting of a Black man in April because the man ignored their commands and drove his car directly at one of them before they fired any shots, a prosecutor said Tuesday.
Officials say Mr Brown drove his car at police during the 44-second encounter.
Mr Brown's family disagree with authorities, and say he was "executed". An independent inquiry found he was shot five times, including in the back.
His death on 21 April sparked protests against police brutality, and comes at a time of heightened scrutiny over the use of lethal police force on African-Americans.
After an investigation, Pasquotank County District Attorney R. Andrew Womble said during a press conference that he determined the shooting in Elizabeth City was "justified."
Womble said: "While tragic, the shooting of Mr. Brown was justified due to his actions."
Andrew Brown Jr.'s actions caused deputies to believe it was necessary to use deadly force, District Attorney Andrew Womble told a news conference. He said he would not be filing criminal charges against any of the deputies, who were trying to take Brown into custody while serving drug-related warrants at his house.
"I find that the facts of this case clearly illustrate the officers who used deadly force on Andrew Brown Jr. did so reasonably and only when a violent felon used a deadly weapon to put their lives in danger," Womble said, referring to Brown's car.
He said he found that "Brown's actions and conduct were indeed dangerous by the time of the shooting … Brown posed an immediate threat to the safety of the officers and others."
The prosecutor said he would not release body camera video of the confrontation between Brown and the law enforcement officers, but he played portions of the video during the news conference that were broadcast by multiple news outlets.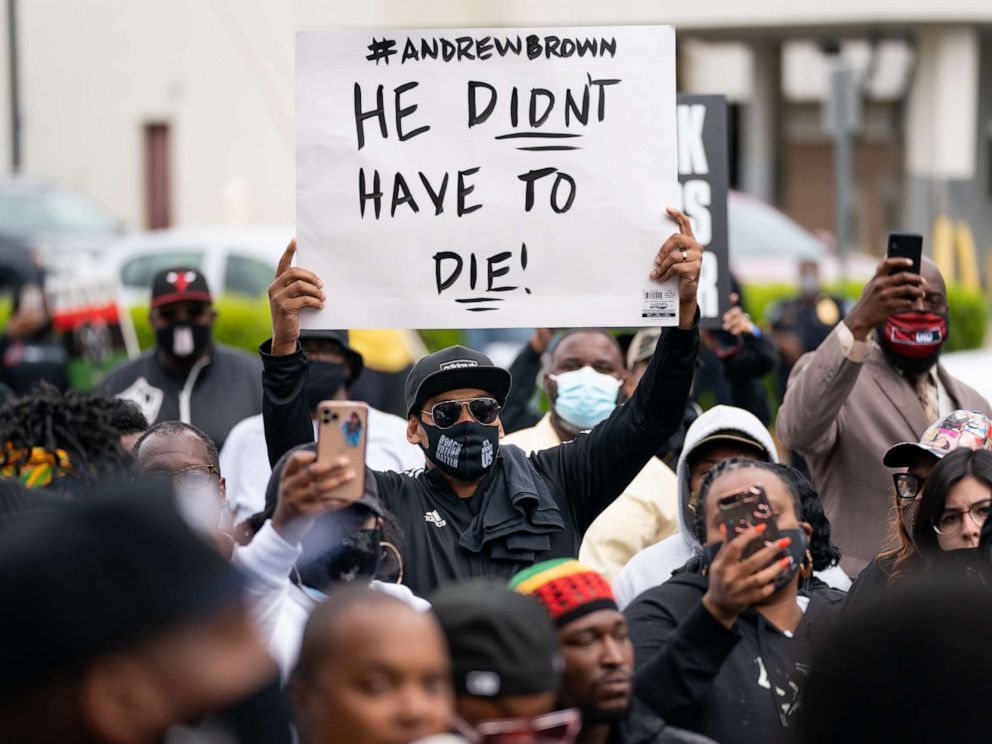 Lawyers for Brown's family who watched body camera footage say that it shows Brown was not armed and that he didn't drive toward deputies or pose a threat to them.
Family attorney Wayne Kendall said Brown was shot a total of five times.
"The first, initial shots were through the front windshield of the vehicle," Kendall said during a press conference on April 28, describing Brown as having "his arms up on the steering wheel."
Brown was shot four times in his right arm, but "they were not fatal shots," Kendall said, explaining Brown was still able to back up and turn around his car before continuing to try and flee.
"At that time he was hit in the back of the head," Kendall said. "That is the fatal bullet wound. A penetrating bullet wound to the skull."
Kendall called it "a straight up execution" while noting that shooting into a moving vehicle that doesn't pose a mortal threat is a violation of police policy.
The shot to Brown's head caused him to lose control and crash into a tree, Kendall said, adding that he suspects police may have fired more shots after the crash.
Ben Crump, one of the lawyers representing the family, told a news conference "it was a kill shot to the back of the head". Mr Crump has represented other families in high-profile police shootings of African-Americans, including the relatives of George Floyd.
Following Tuesday's briefing, civil rights leader Rev Al Sharpton called Mr Womble's defence "bizarre and unconvincing", and said federal officials and a special prosecutor should take on the case.
Last month, the FBI said it had opened a civil rights investigation into the incident to "determine whether federal laws were violated".